Turnaround time: 4 to 5 weeks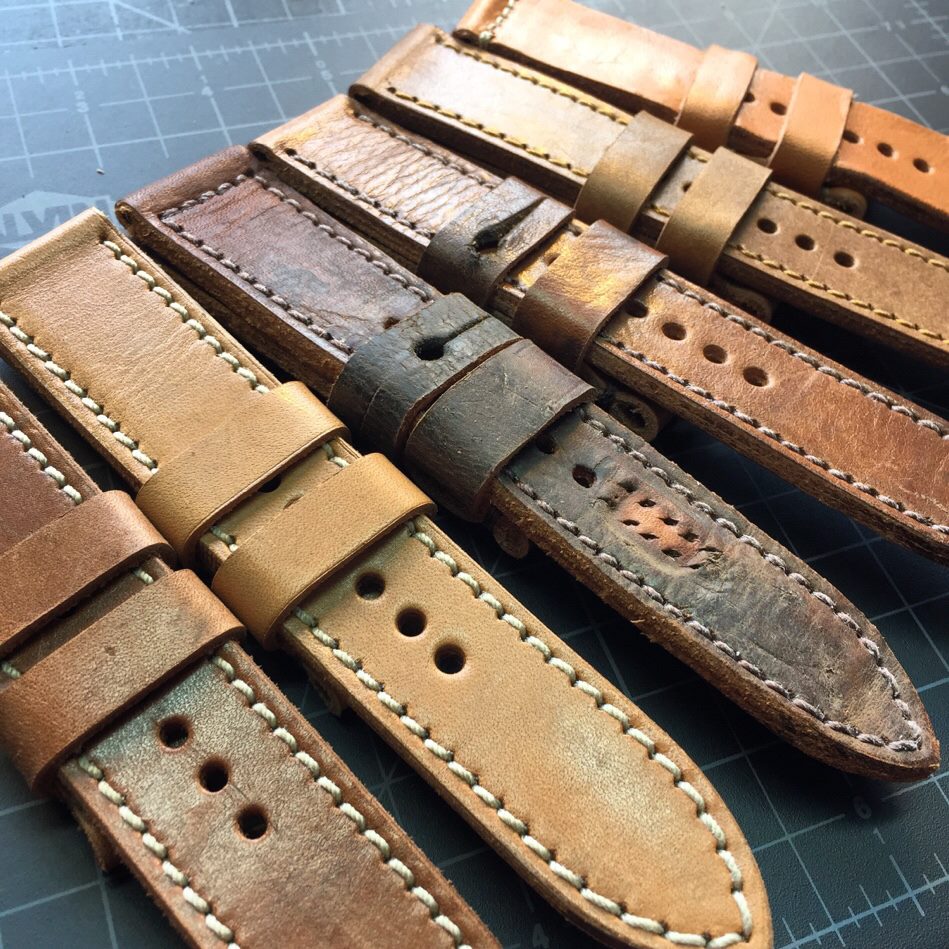 Neon edge coat, X stitches and why simplicity is still the ultimate sophistication

If there's one thing I'm not known for, it's crazy custom watch straps.  Need a rally strap with a bunch of holes punched in it?  Sorry.  Looking for a handmade watch strap with crazy wrapped stitching all down the edges?  Nope.  Just can't find someone to make you that wild spiral stitching pattern in alternating red, orange and green?  Won't find it here either.  
That's because, as Da Vinci (and Greg Stevens!) said, simplicity is the ultimate sophistication.  So why would you want a simple Panerai strap when you can find someone to make you the craziest tie-dye printed lizard strap in the world?
Elegant simplicity makes your watch look better
With very few exceptions, a simple, high quality handmade watch strap is what will do the best job of highlighting the true quality and excellence of your watch.  If your watch is a crazy unique item with a lot of stuff going on and some out-there colors then yeah, maybe some bright stitching will look nice.  But even then, restraint with the strap will allow the watch to look its best.  The strap should speak to the overall quality of the watch rather than it's specific details.  A high quality, custom made watch band will reflect the fine craftsmanship of your watch to the fullest and create a wrist presence that's both noticable and also refined.
A perfect match of style and simplicity
Your watch and your handmade watch strap are a team
I have worked with the same philosophy regarding high-end watches and custom watch bands for over a decade:  Your watch strap should highlight your watch, not compete with it.  You bought a gorgeous Panerai... or Rolex... or IWC, or Bell & Ross or whatever it is you bought because that watch moved you.  Adding the right handmade watch strap to it will absolutely bring it to new heights, but only if that strap can become part of the package instead of becoming the focal point on your wrist.  Excellent craftsmanship, dedication to details and the personal knowledge of a true watch collector and enthusiast making your watch band will yield a strap that shines by making your watch and watch strap become a package of fine quality and beautiful subtlety, rather than two items fighting each other for the spotlight.
When watch met perfect strap
I'd rather play well than play loud



Quality is its own reward.  I'm sure that there's a lot to be said for crazy colored straps or wild stitching patterns, but those things aren't what I want to say.  I want to say that the right leather, the right stitching and the right pairing will result in stunning excellence that can't be achieved with outlandish creations.  When everything comes together in an outstanding package it shows, and people with taste and discernment know it without having it shoved down their throats via wacky designs.  Quality stands alone when fads have come and gone, and quality shows at even the merest glance.
It all just works