Turnaround time: 4 to 5 weeks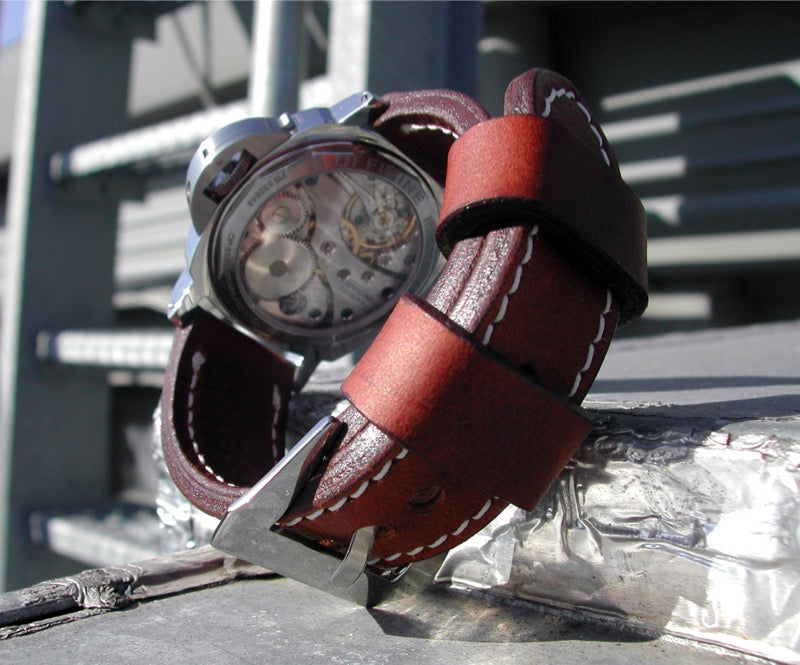 Custom watch strap thickness and why it's important
How thick should a custom watch strap be?  A lot of that depends on your personal preferences, but for my money 4mm is just right for Panerai and other larger watches, while 3mm is just right for normal sized watches such as IWC, Rolex, Omega etc.  In this musing I'll discuss why thickness matters, how it affects fitment and why different watches need different thicknesses of handmade leather watch straps.


5mm+ thickness used to be popular with custom Panerai straps
 Thickness effectively shortens your handmade watch strap's length
The most immediate interplay between watch strap thickness and fitment is on length.  A thin strap (3mm or less) that's 115/75 might fit you just fine, in part because of how thin it is.  But if the strap you're ordering is 4mm thick, suddenly a 115/75 length is going to leave you with a strap that's too short on your wrist.  Yes, 1mm can make a lot of difference.  This is because as the strap gets thicker, practically speaking everything gets "pushed out" from your wrist, which in turn effectively shortens up the strap on your wrist.  This is why while a thin OEM length strap might fit you perfectly, that doesn't mean that the same length will work with my more robust custom leather bands; you'll need something longer, usually at least 10mm or so.
Thick watch, skinny strap.  Sorry dawg, it's a no.
What watch is your custom watch band going on?
The watch you're ordering for plays a big roll in how thick your handmade watch strap should be too.  For Panerai and other large watches, a 4mm thick strap plays perfectly to the size and impression a large watch makes, highlighting the robust and impressive nature of the watch.  On a Rolex, Omega or other smaller watch a thick strap would be out of place, drawing attention away from the watch and towards the oversized strap.  When I receive orders if the strap width is 22mm or greater I assume the strap is for a larger watch and make it thicker, if the strap is under 22mm I assume it's for a smaller watch and make the strap thinner, usually in the 3mm range.  This is why in my FAQ I have two charts for strap length: Panerai (or other large watch) and non-Panerai.  Thickness changes fitment, so different lengths are suggested depending on how thick the strap will be.
Robust watch, robust strap.  You're the next Custom Watch Strap Idol!
What about my own style?
Of course I encourage you to do what works best for YOU!  Make it yours!  Length and fitment are as much matters of taste as anything else.  I prefer longer straps that have a nice amount of tail and show the buckle a little bit.  Others prefer shorter straps that show no tail and have the buckle centered.  I always make suggestions based on what I like first, and then if you have a specific desire I naturally change my suggestion to help achieve what it is you want.  You're the one wearing the strap, not me, let's make it how you want it.  Want a big, 5mm thick strap that's like a belt on your wrist?  No problem.  Want something thinner and more elegant?  Can do.  The beauty of a completely hand made custom watch strap is that we can do it how you want.
Your watch, your strap, your length.  Make it yours!